Monthly Budget & Distribution
$3,000.00
° $1,000.00 Paid Advertising Campaings
° $1,500.00 Compensation
° $500.00 Conversion Rate Optimization

Goal
Research, structure, deploy, measure and manage marketing for GeoSolutions. Campaigns may vary but will include one, multiple, or all of the following: Marketing Calendar, Email Campaigns, Social Media Management, Paid / Organic Ad Campaigns, Digital, Tangible collateral & creative.
Research
Looking Inward:
Identify key relationships and partnerships, current customers, messaging, services, reach and results.
Looking Outward:
Identify current market size, opportunity, current trends, competition and inhibitors of success. Discover how the market can be segmented into logical customer groups. Understand their pain points, purchasing power, and customer lifecycle.
Campaign Structure
Campaign Objectives, Messaging, Imagery & CTA
Define clear campaign objectives positioned around segmented audiences, finalize value propositions, imagery, and C.T.A. based on campaign objectives.

Analytics & KPI's:
Identify measurable values, that inspire action. Set-up proper infrastructure for tracking KPI's think S.M.A.R.T.
Platforms For Deployment:
Identify best platforms for segmented demographics and individual, or multiple campaigns. Build collateral for specific platforms. ( Facebook, Instagram, LinkedIn, Google, Other )
Calendar & Timelines
Outline proper calendar dates and timeline for the long term and short term milestones and campaigns.
Customer Journey
Workflow for expected customer journey. Initial engagement through sale.

Campaign Deployment
Analytics & KPI's
Draft weekly reports around identified KPI's, strategize based on performance.
Lead Nurturing:
Review structured email automation being sent to customers based on their behavior.

Measure & Manage
Analytics & KPI's
Review all tracked analytics and KPI's create overview report and move forward accordingly.
Customer Journey Review
Identify where we are losing potential customers and how to stop the drop off in each identified phase. Give each engaged customer a lead score and move forward accordingly.

Whats Next?
As we dive into the Research Phase a few things to note.
° Research Phase is a stand-alone project that is instrumental to the success of the campaigns being developed moving forward.
° This is a flat rate project at $1,500.00.
° There is a $500.00 deposit, due before starting the questionnaires.
° Avearge time of completion 2weeks.
° The work flow will be as follows: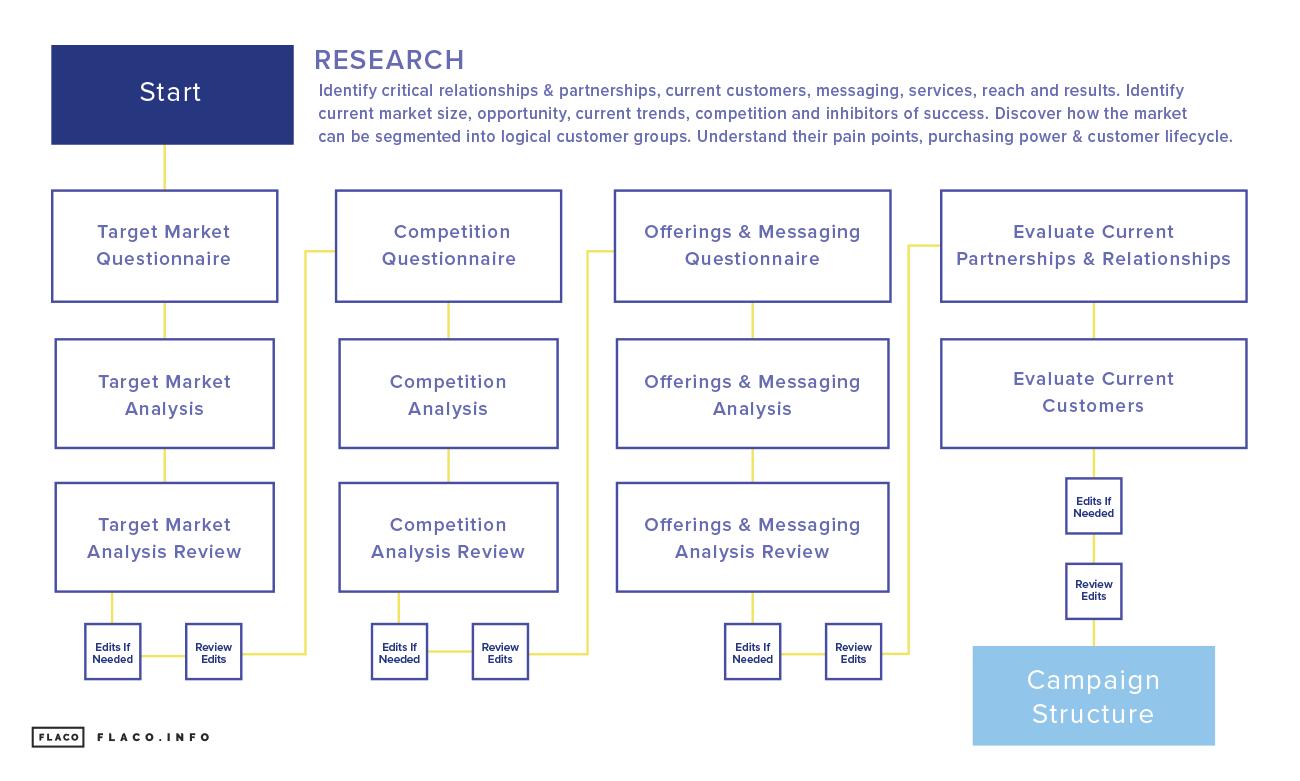 Target Market Questionnaire & Analysis(Q&A) | Competition Q&A | Offerings & Messaging Q&A
These questionnaires should be answered as detailed as possible, by all integral members. The more we know, the better we can properly structure marketing campaigns and collateral that is measurable and quantifiable. But more importantly, successful. Remember, Proper-Planning-Prevents-Poor-Perfomance.

I am looking forward to answering any questions, discussing all comments and addressing any concerns you may have.

speak soon,
Jerry Hernandez